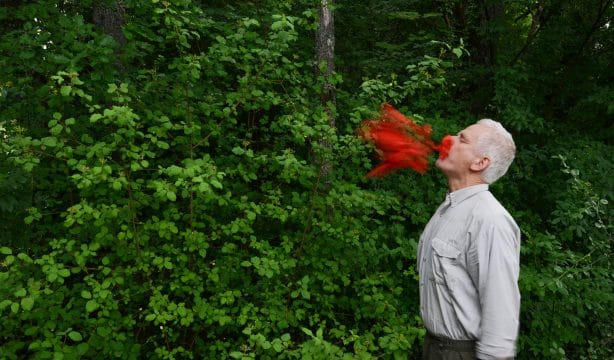 Published on 11 September 2020
by Cairn Centre Art in
Non classé
Andy Goldsworthy. Poppy spits. Digne-les-Bains, France. 10 June 2015 (Projection de coquelicots.Digne-les-bAINS, France.10 JUIN 2015) © Andy Goldsworthy
April – july 2021
The project will celebrate the 20th anniversary of the art center in a dual historical and prospective perspective. Beyond a restitution linked to the memory of the place, it will be a question of giving an account of the spirit of the CAIRN, on both a small and large scale, from the exhibition hall to the territory of the UNESCO Geopark of Haute-Provence.
In this context, the CAIRN will host an exhibition by video artist Jean Baptiste Warluzel, who for over a year travelled through the Geopark territory following in the footsteps of the artists invited by the art center before him, sleeping in the Art Refuges, filming the mountains and their poetry of the moment.
Two other exhibitions, the publication of a book as well as numerous meetings and conferences with art historians, researchers, artists and actors whose work questions the relationship between art and nature, the relationship to the site, the territory and the living will be proposed on this occasion.
More information coming soon!